House Cleaning Services
A CLEANER, HEALTHIER HOME… EVERY TIME!
The Total Home Cleaning system was founded on the principle that cleaning your home should be done the way you would do it, if you had the time. So, our system was designed to go beyond surface sparkle to provide a healthier, cleaner house.
We customize our cleaning to your priorities! Based on your needs, we're happy to focus on specific items, such as windows or laundry, or exclude others, such as particular rooms.
We start with effective, safe, and environment-friendly products. We avoid or sparingly use the common cleaning products that we know are linked to allergies and other health threats. We keep the germs contained by using color-coding to separate bathroom tools from the rest of the house.
Finally, our staff is our most important asset. They know that your home is your castle and do their best not to intrude on your privacy, lifestyle and family activities. We hire service-oriented personnel, train for thoroughness, and treat everyone with respect. As a result, we are rewarded with loyalty and professionalism.
We are reasonably priced, fully insured, and bonded. Give us a try! Call us at (908) 273-8774 or fill out our form for an estimate and we will contact you as soon as possible.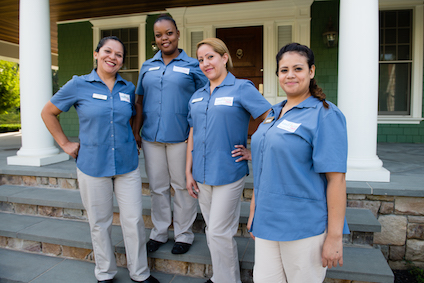 What's Included? Our new clients are surprised by the details, so take your time to absorb when reading our cleaning checklist. That's because we do all of the following with every visit unless you tell us otherwise:
Clean Formal Living, Dining & Family Room Areas
Dust furniture
Vacuum carpets
Clean under couch cushions
Dust light fixtures, lamp shades, artwork and other wall hangings
Dust exposed heat registers and baseboards
Dust windowsills
Damp mop floors
Clean patio doors inside and out
Clean Bedrooms & Office Areas
Make beds / change linens
Vacuum and dust furniture
Dust exposed heat registers & baseboards
Dust light fixtures, lampshades & artwork
Clean Kitchen and Laundry room
Clean kitchen, including sinks, appliance exteriors, countertops, items on countertops, cabinet fronts, and table and chair legs
Clean inside oven window
Clean refrigerator seals and air vents
Clean inside window above sink
Wash inside microwave
Wash floors by hand
Clean Bathroom
Clean tub/shower stall
Clean commode inside & out
Clean lights, mirrors & counter
Clean cabinet exteriors
Clean and dust paper holder/towel racks
Vacuum & hand wash floors
Dust exposed heat registers & baseboards
Rotational Tasks
Some cleaning tasks don't need to be done as often. These tasks are typically completed on a rotational basis, depending on the needs in your home from visit to visit, or we will select these tasks based on an area or room of concentration.
Polish furniture
Move and clean under furniture
Edge carpets
Clean unexposed heat registers/baseboards
Cobweb patrol
Dust ceiling fans
Wash door frames
Wash artwork/light fixtures
Wash window frames
Polish kitchen cabinet
Wash kitchen baseboards/splashboards
Wash other baseboards
Polish bathroom cabinets
Other tasks such as garages, ovens / grills, windows and walls, inside refrigerators and ovens can be incorporated into your regular assignment and included in your price quote, or charged separately as add-ons from time to time upon your request.